I LOVE Milly and did know until now that they have a children's line of clothing..(shhhhh...do not tell a soul or I might lose my creditability as a blogger) and can you stand this...they are called.....
Milly Minis...OMG..I DIE (in the words of Rachel Zoe)
I finally debuted my Flower Lattice JCrew necklace on New Years Eve, paired with a simple black dress (well there may have been a glittery jacket too but...it was NYE). I got compliments beginning in the elevator (on the necklace not me...I am not being vain I promise):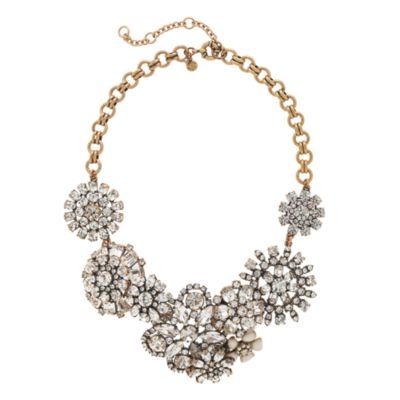 I have read rave reviews on the Mark Jacobs gel foundation. Just got a sample of it at our local Sephora and have to say the reviews are correct, its fabulous:
I will leave you tonight with a book that I truly enjoyed reading: The Magic Room by Jeffrey Zasslow. The author chronicles a bridal salon outside of Grand Rapids MI. and the clientele it has served over the years. The 3 generations of women who have owned and worked at the salon share interesting stories about their brides (both happy and sad). It is definitely a commentary on our society/our values and how much family units have changed.