Hello all my fave fashionistas, today is another post on things I fancy
Thanks to Liz at the Ft. Wayne Ann Taylor Loft for sharing some exciting news with me about the store/company. I used to hesitate to order from them because of the high shipping costs. Well...its a new world in Loft Land. You can order from the store and receive free shipping. So...out of your size? Out of your most flattering color? Dying to own that "on line only" item that will complete your closet and your life????? No longer a problem. Go into any Loft, place your order and receive FREE SHIPPING (isn't that music to our ears??). Free shipping means more to spend on shopping.
Speaking of Ann Taylor Loft, I just ordered this comfy maxi dress. Its light, airy, in a pretty navy, wide enough straps to cover undergarments and right now on sale for
50% off:
Did you know that Three Oaks MI has their own theater festival? Neither did I ... until Thursday when I saw that John Mahoney was in a play at the Vickers Theater. So sad, it was already sold out and believe me I tried EVERYTHING to get a ticket. Here is a link to their other summer productions:
http://www.threeoaksfestival.com
Could I ever do one Friday Fancies without including Anthropologie? I am guessing not. I was in the store in Chicago, saw this platter and the love affair began...have been dreaming of it on my kitchen counter, sitting upright in one of those cute little spoon plate holders Anthropologie sells...I think seeing this message every morning as I begin my day could change EVERYTHING...see how good I am at rationalizing purchases? Its not mine yet, but it will be...when it goes on sale. I love it so much I even made the image below the biggest one on this post
I love pink, I love New Orleans and I really love pretty dishes...Thank you Anthropologie: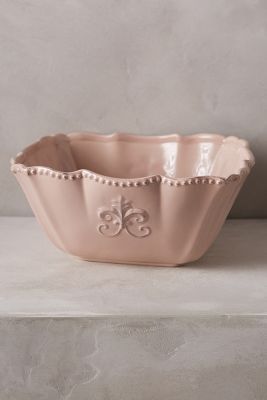 Well, I love these enough I am going to make their image large too so can see just how beautiful they are...I want all of them...every single plate, bowl, platter, pitcher, etc etc.
I will say bye for now...cannot think of a better way to end my post than with the pretties above.