I thought it might be an interesting exercise to look back at 2013 in terms of fashion. What worked and what did not? Which stores hit it out of the ballpark and who never left the gate? Fave new hair and beauty products?
In the past year several new trends have caught my eye. Faux fur is everywhere :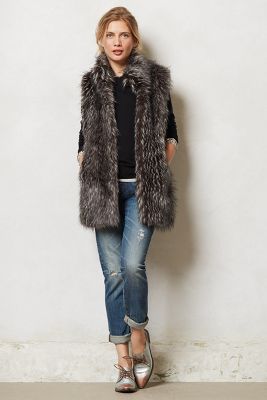 Plaid shirts are so versatile, wear the alone in a half tuck with jeans or tuck one into a skirt layered with a jacket or sweater.
Another favorite trend for me has been daytime sparkle whether its in a necklace, a shirt or even better, both:
It goes without saying Anthropologie again won my heart as well as my pocketbook this past year. Other stores that I think did a nice job balancing fashion trends with affordability and wearable style would be JCrew and Zara. Continuing to disappoint me are Macys (DO NOT even get me started on the topic of Macys and my extreme dislike for them), Gap and Banana Republic. It used to be one could count on Gap and BR for quality wardrobe basics ( both these stores are owned by the same parent company that also owns Piper Lime, Althea, Old Navy and Terrain). I now am more shocked to find something I like and want to purchase at their stores than disappointed that they are barely even on my shopping radar anymore.
Finally some of my favorite makeup and hair products have been, in no particular order:
OPI Tickle my Francy nail polish
Bobbi Brown long wear eyeliner pencil
Tarte self tanner
MAC lipstick in Twig
Jonathan Dirt Texturizing Paste
Guerlain Terracotta Bronzing Powder
Rimmel Fix and Perfect Primer
I would love to know about your hits and misses this year in fashion, beauty as well as any other categories you are willing to share with all of us in the comment section below.
HAPPY NEW YEAR!